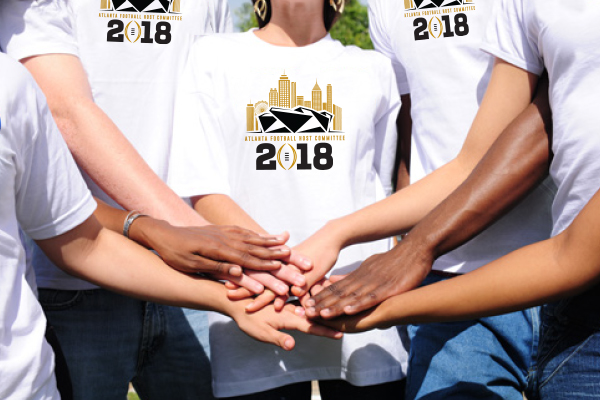 Atlanta Football Host Committee seeks 2,000 volunteers for College Football Playoff National Championship.
With less than 100 days until a college football champion is crowned, the Atlanta Football Host Committee (AFHC) is seeking Atlanta's most enthusiastic college football fans to volunteer for fan events before, during and after the College Football Playoff National Championship on Monday, January 8, 2018, at Mercedes-Benz Stadium.
As Atlanta prepares to host the country's biggest college football game, the host committee is calling on over 2,000 energetic and passionate Atlantans to declare themselves "All In" and help represent the city.
"With the opening of Mercedes-Benz Stadium, the nation is watching as Atlanta hosts a number of world-class sporting events over the next few years," said Carl Adkins, Executive Director of Atlanta Football Host Committee. "It's our time to showcase all that is great about our city and we cannot do it without the support of our community."
To help spearhead volunteer efforts and motivate everyone involved, former college football standouts Hines Ward and Coy Wire of CNN & HLN Sports have been named as Honorary Volunteer Captains. The two will lead teams of volunteers, Team Hines and Team Coy, and will host a volunteer competition, pitting "offense" (Ward) against "defense" (Wire).
The volunteer program, "Powered by Southern Company," will give participants a unique opportunity to get involved with the national championship game. Volunteer responsibilities include hospitality, transportation, access control, operations and more. Shifts range from four to six hours and volunteers are required to serve on at least three shifts. Volunteers will also be required to complete one training session in December.
In addition to being in on the action, volunteers will receive a custom-designed uniform package including a long-sleeved Nike polo shirt, mid-weight performance fleece jacket, lanyard and cap or knit hat. Volunteer captains will be designated by custom designed knit scarves. Uniform designs will be revealed later this month.
Those interested can register at www.atlchampgame.com/volunteer. All applicants will be prompted to fill out an online background check via Verified Volunteers. All volunteers must be at least 18 years old at the time of submission.
More information, including a complete schedule of events leading up to and during the 2018 College Football Playoff National Championship at Mercedes-Benz Stadium, can be found at www.atlchampgame.com.
https://atlchampgame.com/wp-content/uploads/2017/10/volunteers.jpg
400
600
T.J. Harley
https://atlchampgame.com/wp-content/uploads/2016/10/logo-atlchampgame-stacked-notype2.png
T.J. Harley
2017-10-12 13:44:03
2017-10-12 13:48:21
VOLUNTEERS NEEDED. ARE YOU IN?