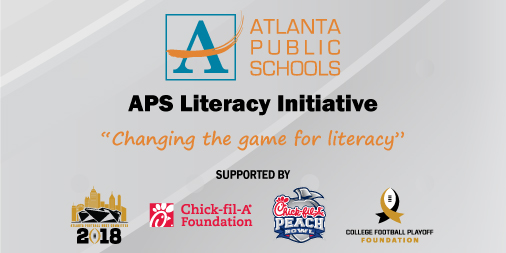 College football community joins forces to provide a $2 million boost to local students and teachers
ATLANTA (June 22, 2017) – A one-of-a-kind, transformative literacy program has scored a big win for Atlanta Public School (APS) students and teachers, thanks to the efforts of the college football community.
Beginning this week, a three-year, $2 million APS Literacy Initiative – co-funded by the Atlanta Football Host Committee, Chick-fil-A Foundation, Chick-fil-A Peach Bowl and College Football Playoff Foundation – will better equip educators to teach literacy skills.
The program represents the largest corporate gift to Atlanta Public Schools in the last five years and will be a huge asset in the district's ongoing fight to improve literacy rates.
Currently, more than one third of APS second graders read below grade level and 70 percent of teachers lack confidence teaching fundamental literacy skills. Research shows that students who do not read proficiently by the end of the third grade are four times more likely to leave school without a diploma. That is why improving childhood literacy is key to the APS transformation plan.
"We are so thankful for this support and what it will do for our teachers and students," said APS Superintendent Dr. Meria Carstarphen. "Strong early childhood literacy is a key factor in a student's success, and is a top priority for our district. This program has the ability to completely change the game for our students and give them the boost they desperately need."
Specialized teacher training began this week for 175 teachers and will continue over the summer session with two more weeks of training. By 2020, the literacy initiative will equip 1,500 APS teachers with the skills to deliver high-quality literacy instruction to all 25,000 APS elementary students.
The training will focus on the Orton-Gillingham (O-G) approach to literacy. The O-G technique is scientifically proven to enhance reading proficiency for all learners using instruction in sight, hearing, touch and movement to help students connect language with letters and words. The goal of the training is to ensure all teachers feel comfortable teaching foundational early learning literacy skills to students including phonemic awareness, vocabulary, phonics and fluency.
The APS Literacy Initiative allows the district to partner with the Institute for Multi-Sensory Education – a leading provider of direct, systematic and sequential instruction that empowers educators to teach the foundation of the English language – to run the training sessions.
Funding for the program is primarily connected to Atlanta's college football community and is an example of the positive impact the sport can have on a community. In large part, the APS Literacy Initiative is a result of Atlanta hosting the sport's highest-profile games, including last year's College Football Playoff Semifinal at the Chick-fil-A Peach Bowl and this year's College Football Playoff National Championship which will be played Jan. 8, 2018 – exactly 200 days from now.
"We are thrilled to have an opportunity to give back to the Atlanta community and positively impact the lives of so many young students," said Dan Corso, president, Atlanta Sports Council and Atlanta Football Host Committee Board of Directors. "This program will shine a deserving spotlight on the importance of early literacy, education and empowering students to reach their academic goals."
 "At the Chick-fil-A Foundation, we believe in the power of learning," said Rodney Bullard, vice president of community affairs at Chick-fil-A, Inc. and executive director of the Chick-fil-A Foundation. "We know that when children are given the right tools at a young age, they can build better, brighter futures. The work the APS will be doing through this literacy program will change lives and communities, right here in Chick-fil-A's hometown. It's our pleasure to play a small part."
"We have a passion to be involved and give back to our community, especially in education, and especially with an effort of this significance" said Gary Stokan, CEO and president of Peach Bowl, Inc. "We have a long history of supporting APS through our local Academic Mentoring Program and Endowed Scholarship Program and this is a perfect extension of those efforts and something we hope will have a lasting positive effect on our children."
Said Britton Banowsky, executive director of the College Football Playoff Foundation: "These are the types of breakthroughs we're hoping that the CFP Foundation, via Extra Yard for Teachers, can facilitate in communities across the nation. We've had remarkable co-partners in Atlanta, and we thank them for their leadership in identifying this opportunity and implementing the funds. We'd like to see this become a national model and certainly the visibility provided by the sport of college football help enormously."
In the program's first year, 500 kindergarten and first grade teachers will be trained in sessions from June 19-23, June 26-29 and July 17-21. Teacher training will be hosted by APS at the former Sammye E. Coan Middle School building.
https://atlchampgame.com/wp-content/uploads/2017/06/APS-Announcement.jpg
253
506
Erin Shearer
https://atlchampgame.com/wp-content/uploads/2016/10/logo-atlchampgame-stacked-notype2.png
Erin Shearer
2017-06-22 13:14:13
2017-06-22 23:26:59
Atlanta Public School Children Score Big to Change the Game for Literacy